Jag blev tillfrågad, tillsammans med annan konstnär, om jag kunde skissa ett förslag till Uddevalla kommuns nya biblioteksbuss. Jag kände mig tveksam i början att ta uppdraget, då jag arbetar som bibliotekarie.
Men jag gjorde en skissförslag, baserad på en tanke om att det skulle vara färgglatt och något igenkännligt i gestaltningen. Jag tänkte, att det skulle vara som en resa genom olika landskap eller fantasier med en gul väg som löpte hela vägen runt. Den kom såklart från Trollkarlen från Oz, som är en bokserie, som jag läst och tycker om. Andra element som dök upp var Plåtmannen och Lejonet, som ingår i den världen.
Delar av processen: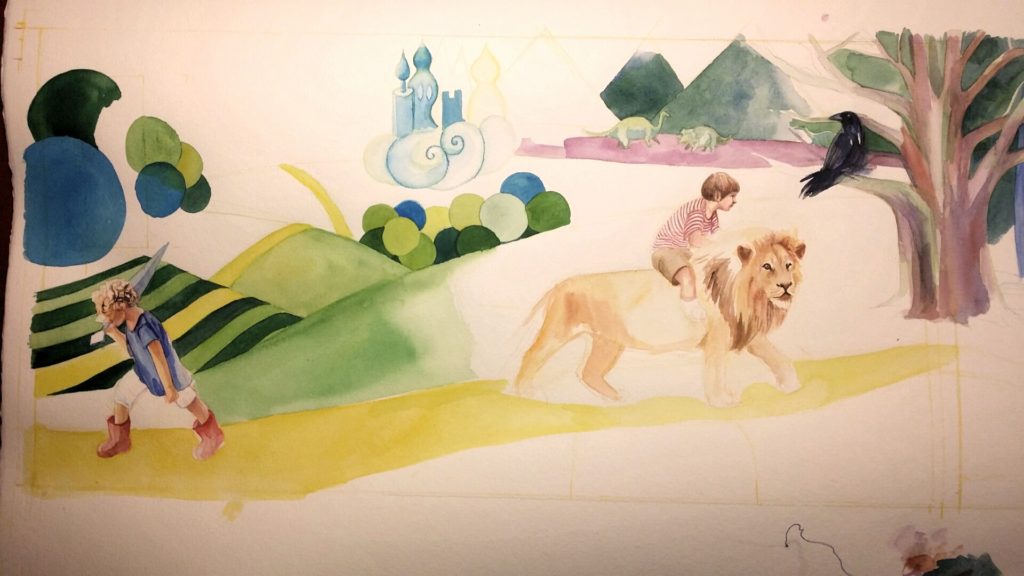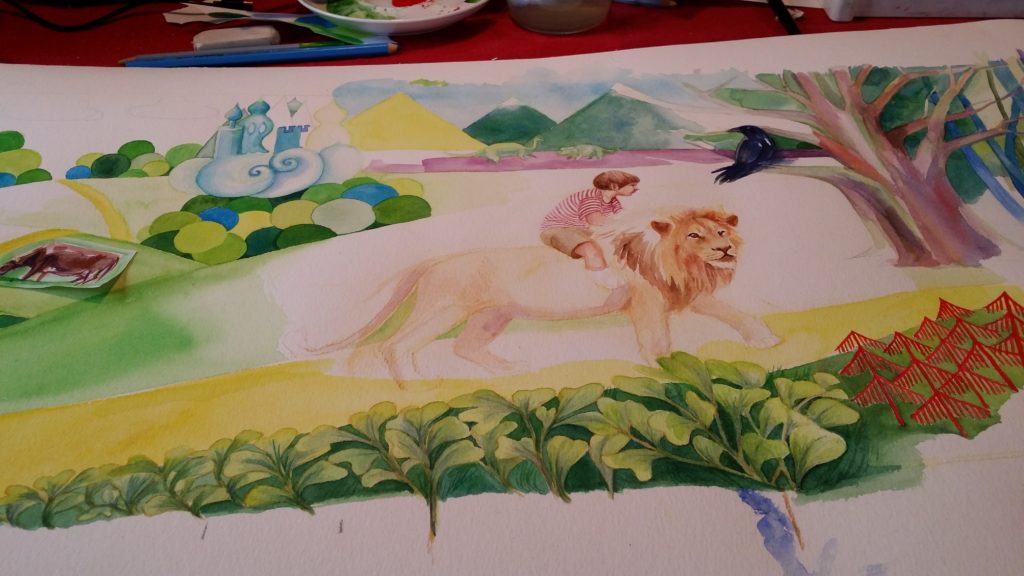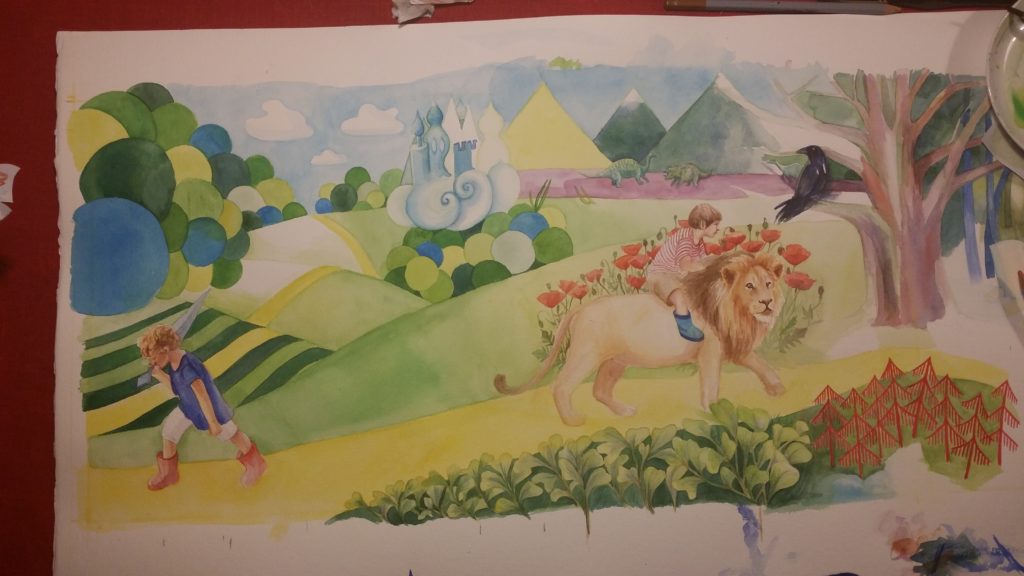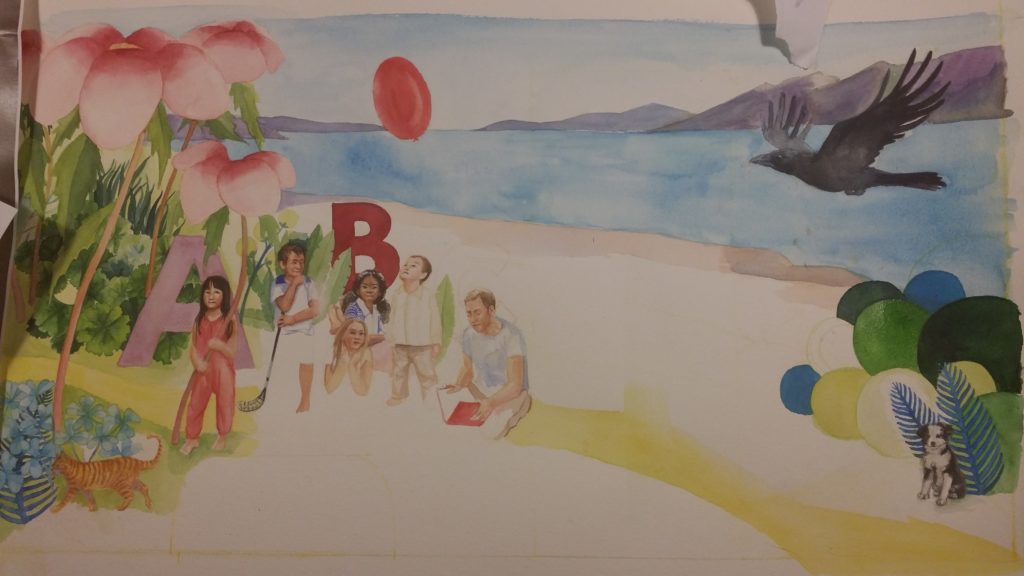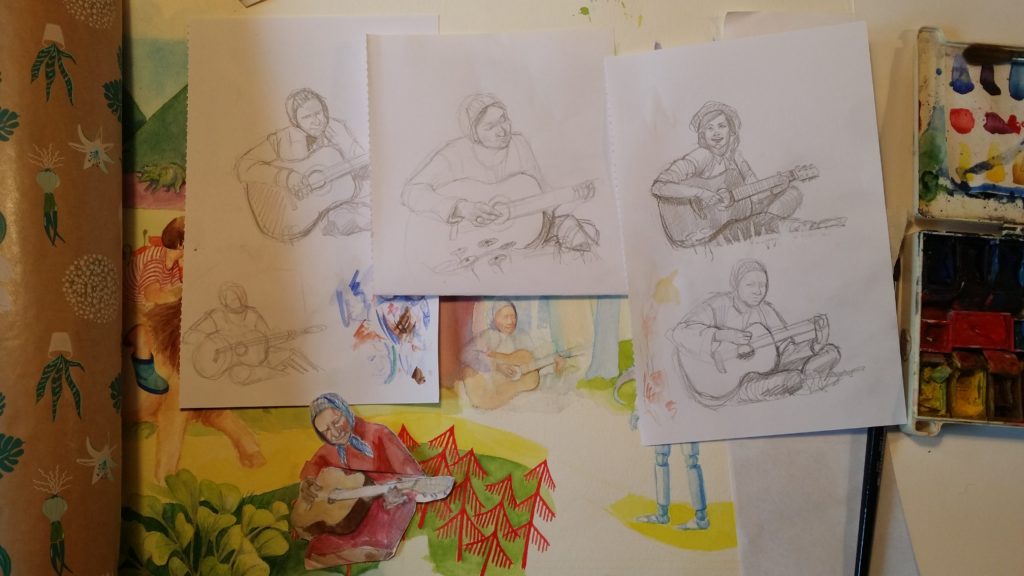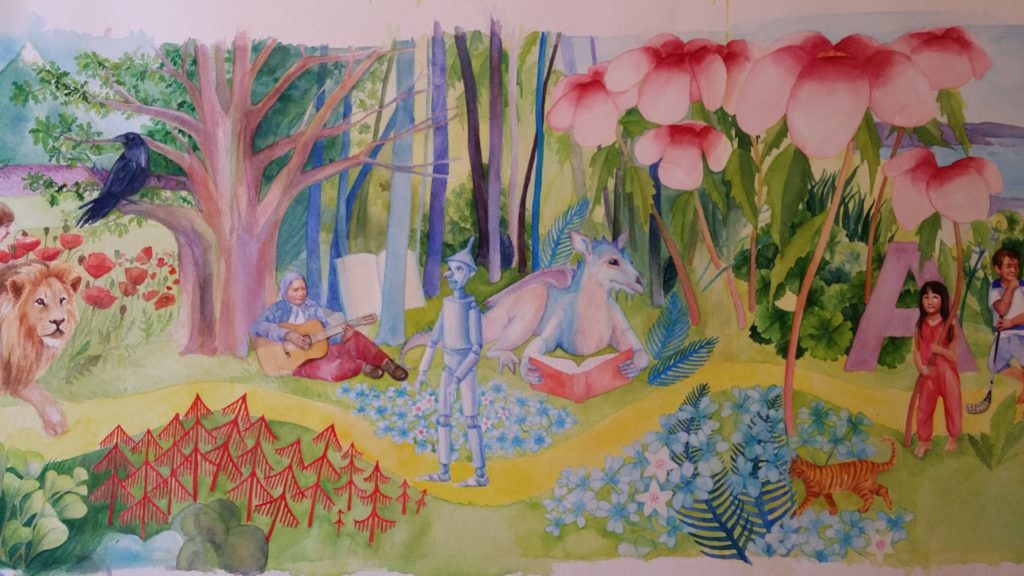 This was the biggest commission I have made to this day in april 2020.
– Sadly, this work or rather the finished bus will no longer stay with my workplace. The city of Uddevalla have to sell this to save the finances in the municipality.
I vår under kommunens besparingar, som ännu inte helt är klara, då många miljoner fortfarande ska sparas bort i Uddevalla kommun, fattade Kultur- och fritidsnämnden beslutet att avveckla bokbussverksamheten på Uddevallas bibliotek och försöka sälja bussen. En tjänst försvinner och bussen skall inte finnas hos oss efter sista juni i år.
Den är otroligt fin och som ett arbetsredskap har den varit flexibel och synlig. Min arbetsplats, Biblioteken i Uddevalla, har såklart kört runt på landsbygden som den biblioteksbuss den är. Vi har besökt skolor och förskolor, Landbadet på sommaren men också kunnat dyka upp på evenemang som Häng på Hamngatan, Ljungskiledagen och Äldremässan.
När närbiblioteken har byggts om, har Bibliotekbussen kunnat rycka in och förmedla lån för de som besöker dem. Nu i coronatider valde nämnden att stänga våra bibliotekslokaler. För att nå ut med vår verksamhet har vi använt Biblioteksbussen och kört ut reserverade böcker till närbibliotekens besökare.
Jag har fått vara med om en spännande, utmanande och rolig process som konstnär i arbetet att gestalta denna buss. Som bibliotekarie och kommuninvånare i Uddevalla kommer jag sörja att vi förlorar verksamheten Biblioteksbuss. Kommer vi inom närtid få en sådan verksamhet igen?
Den utåtriktade verksamhet som bussen möjliggjorde kommer nu upphöra.